NEHP Modular Benefits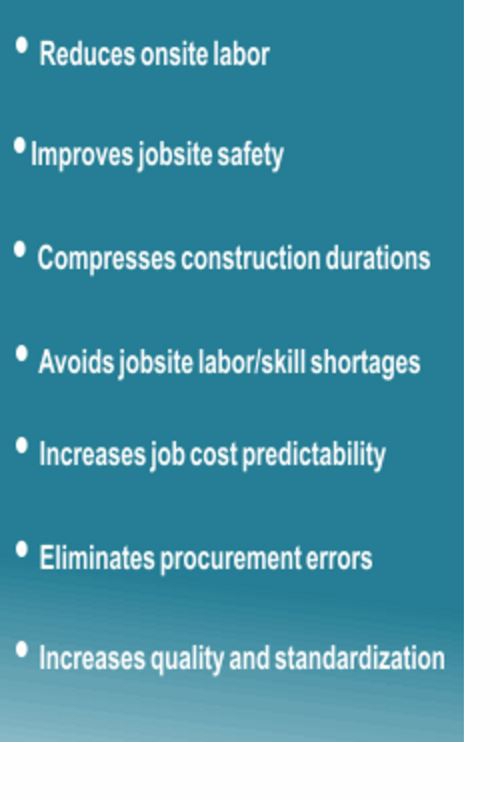 Historically, many high tech industries relied upon stick-built methods to construct the support systems for their manufacturing equipment. NEHP's unique modular approach simplifies this process, increasing efficiencies,saving time and money for our clients.
The advantages of modularization include significant financial and time savings. The Increased efficiencies can translate to direct cost savings which can materialize into a competitive advantage for your business.
With NEHP modules replacing stick-built construction, the following savings are typically realized:
Time to installation reduced by 17%-47%
Cost of installation reduced by 10%-30%
Footprint reduced 10%-15%
On-site labor reduced up to 44%
On-site activity reduced by 50%
Procurement complexity reduced / fewer vendors & purchases
NEHP is a leader in the field of modularization, and developed the first modules for drop-in use in raised floors in Semiconductor Fabrication facilities across the US. NEHP was awarded US Patent #7.039.999 B2 in 2006 for this modular concept.
NEHP provides modular solutions for manufacturing that are configurable to specific tool applications. We adapted our modular method for 200mm and 300mm tools allowing fast and easy integration into your pre-existing process while simplifying design, pre-purchase, and installation.
NEHP modules replace complicated and costly stick-built gas and water support systems with pre-designed units designed to conveniently fit directly into the fab room floor or sub-fab room, depending upon customer needs.