The fabrication of utility process modules away from project sites has comprehensive benefits
At NEHP, we're experts in Prefabrication, Preassembly, Modularization and Off-Site Fabrication (PPMOF) techniques and processes. Advanced PPMOF programs reduce both on-site labor and fabrication labor costs. But communication is key and the process starts with in-depth client consultation to understand project weaknesses, strengths, risks and challenges. This results in an outline of recommendations/materials/strategies/processes that NEHP and the client can use for best financial value. We then employ cutting-edge modeling software to control and limit rework within each product or program. The ultimate goal is to eliminate or align construction gaps between design and construction, including reduction of project issues such as safety, laydown, trade stacking and waste.
Providing modular utility program packages start to finish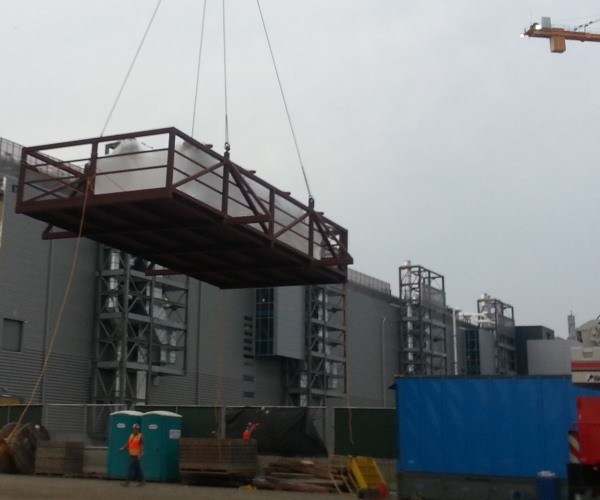 Near the end of the process: Completed NEHP module lowered into facility.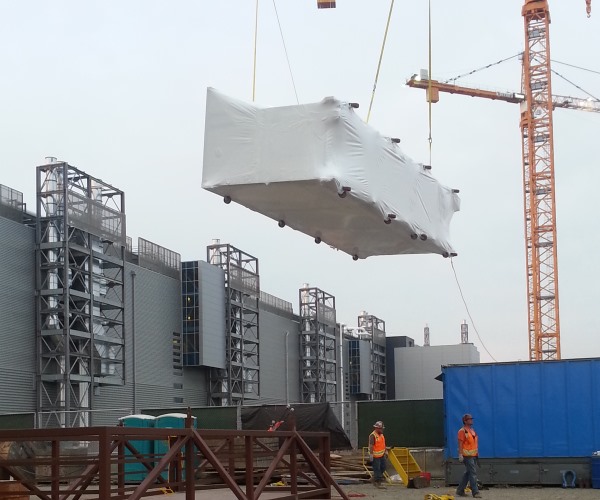 Crane hoisting NEHP module in preparation for on-site installation.
NEHP processes, successfully employed at dozens of high-cost, high-stakes projects, have consistently succeeded through more effective interfacing of people, processes, materials, equipment and information. PPMOF works well with interoperable technology applications, such as Building Information Modeling (BIM).
Advantages of modular construction include:

Substantially reduces on site labor activities by 30%.
Orbital and high purity welds removed from typical projects methods.
Proven cost reductions by 18% to 33% from past projects.
Increases jobsite safety.
Material management efficiencies - LL planning.
Compresses construction time by reducing the number of construction activities.
Improves quality and provides standardization.
Cost control - expandable and flexible designs built into module.
Reduces footprint requirements by stacking & dense packing utilities and personnel.
Overcomes skill shortages and training at jobsite.
Site infrastructure requirements are reduced due to less manpower required on site: parking spaces, site office and storage trailers and containers, site safety supervision.
Reduction in exposure to work related Life and Safety incidents.
Reduction in construction contamination in the sub-fab and associated cleaning man-hours and cost.